Host Memory Buffer (HMB)
The Host Memory Buffer (HMB) feature utilizes the DMA (Direct Memory Access) of PCI Express to allow SSDs to use some of the DRAM on PC system, instead of requiring the SSD to bring its own DRAM.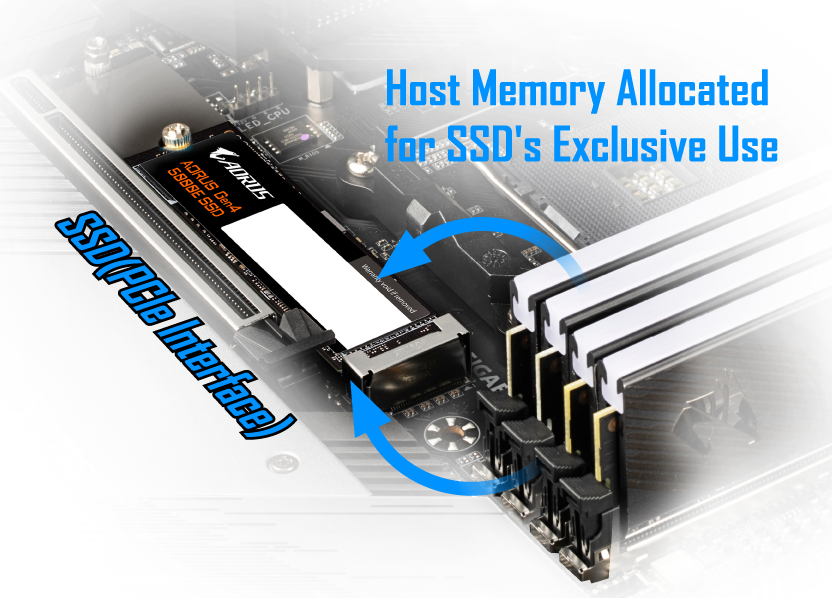 Power Saving While Operating
AORUS Gen4 5000E SSD leverages a controller which produces lower power consumption for all the high-performance computing needs. Compared with regular PCIe 4.0 x4 SSD, AORUS Gen4 5000E SSD reduces about 30% power while operating. The power consumption of AORUS Gen4 5000E SSD is notably improved.
GIGABYTE CONTROL CENTER (GCC)
GIGABYTE CONTROL CENTER (GCC)
is a unified software for all GIGABYTE supported products. It provides newly designed intuitive user interface to control all essential function.
Unified software platform for all Gigabyte supported products
Intuitive user interface for an eased experience
Modularized control components only for installed hardware
Auto update function to keep system up to date and support future products
SSD Tool Box
The newly updated SSD Tool Box is a software that gives users an overview of the SSD Status and various aspects such as model name, FW version, health condition and sensor temperature. Moreover, users can clear all the data with the Secure Erase function. You can download the SSD Tool Box from the link.